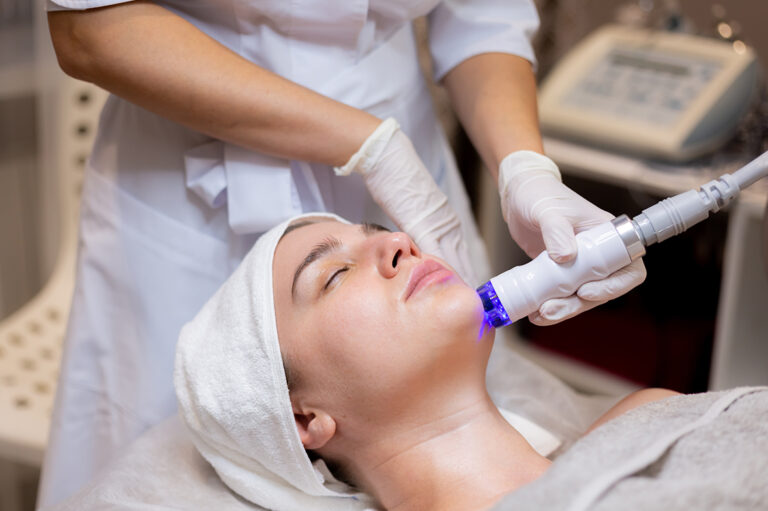 Are you unhappy with your unevenly toned, dehydrated skin? Has ageing dulled your beauty? Here is the much-awaited solution you've been waiting for: the HydraFacial. This modern skincare experience promises to enhance your skin's natural radiance like never before.The most modern skincare experience promises to glow up your skin's natural radiance like never before. In this blog, we take you into the magic of HydraFacial, its unique benefits, and how it fascinates the beauty world with its customized formula.
The Science Behind HydraFacial
HydraFacial is not just a facial; it's a complete skincare therapy that blends advanced technology with pampering luxury. Using a patented Vortex-Fusion® technology, the treatment cleanses, exfoliates, extracts impurities, and infuses potent serums into your skin. This multi-step process is designed to address a range of skin concerns, from congested pores and uneven texture to fine lines and dehydration.
Customized Serums for Amazing Results
Everyone is unique, so is the skin. You need a proper pampering considering the minute characteristics and peculiarities and this is where HydraFacial shines.
What sets HydraFacial apart is its ability to use customized serums that target specific skin concerns. Whether your skin craves hydration, brightening, or rejuvenation, a trained expert will select serums packed with antioxidants, peptides, and hyaluronic acid to address your unique requirements. This infusion of goodness leaves your skin instantly plumped, hydrated, and glowing.
Benefits of Hydra Facial: What makes it Unique?
Unlike traditional facials that might leave your skin red or irritated, the HydraFacial delivers instant results with no downtime. You'll walk out after the treatment with a radiant complexion, feeling more confident than ever. Over time, regular HydraFacial sessions can lead to noticeable improvements in skin texture, tone, and elasticity. The following are the major benefits you may experience after the glowing skin therapy:
Deep Hydration

Gentle Exfoliation

Reduces Fine lines and wrinkles

Pore Cleansing

Reduces Uneven Skin Tone

Improves Skin Texture

Removes Blackheads

Helps in Anti-ageing

Reduces Rosacea

Immediate Results

Suitable for all skin types
How does it work: 5 Amazing Steps to the  Beauty Wonder
Step 1
Cleansing and Exfoliation: The treatment begins with a gentle cleansing of the skin's surface to remove dirt, oil, and makeup. Simultaneously, a specialized exfoliating solution is applied, helping to remove dead skin cells and reveal a smoother texture.
Step 2
Acid Peel: A mild glycolic and salicylic acid solution is used to further exfoliate the skin and loosen impurities. This step prepares the skin for effective extraction and infusion of serums.
Step 3 
Pore Extraction: The HydraFacial device utilizes a patented Vortex suction technology to painlessly and effectively extract impurities from the pores, including blackheads, whiteheads, and other debris.
Step 4 
Serum Infusion: Customized serums containing a blend of antioxidants, peptides, and hyaluronic acid are then infused into the skin. These serums nourish, hydrate, and protect the skin, addressing specific concerns such as fine lines, wrinkles, uneven tone, and texture.
Step 5
Hydration and Protection: The final step involves saturating the skin's surface with intense moisturizers to enhance hydration and lock in the benefits of the treatment. The result is a revitalized, radiant complexion.
Why Choose HydraFacial? 
Expertise: Hydrafacial is the advanced treatment in the beauty world and it is done by well trained expert of hands on knowledge making it safe and reliable as always
Customization: Understanding each individual's skin and  customizing it with the serums of use resulting in an instant glow.
Luxury and Relaxation: Wanna try out something serene in the beauty world without dulling the luxury? Hydra Facial scores the highest and yes, the result is unimaginably beautiful. 
Immediate Results: Experience the transformative power of HydraFacial with results you can see and feel instantly.
Long-Term Benefits: Regular HydraFacial sessions can improve your skin's health and appearance effortlessly in no time.
HydraFacial, as the newbie to the world of beauty, has now become a trendsetter with its amazing benefits and results. No matter how challenging your skin problems may be, HydraFacial can help you improve your skin texture through its incredible formula and customized skincare plan. Consider trying out this treatment soon, and your complexion will thank you!