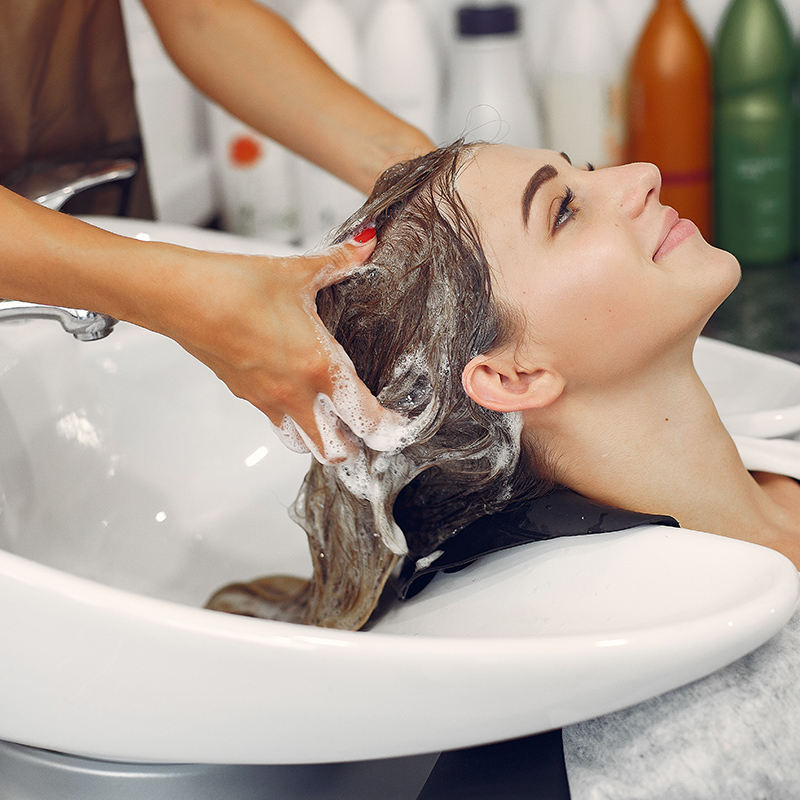 From Rs.1500
Loreal Lustrous Hair Spa: Your Ultimate Solution for Hair Damage
Are you tired of dealing with the damaging effects on your hair? Look no further than Loreal Lustrous Hair Spa, the premium solution designed to protect and revive your hair from the perils of environmental damage.
Environment is becoming notorious for its highly polluted contents including dirt and toxic elements. These can build up on your hair, creating a stubborn film that hinders moisture from penetrating. As a result, your hair becomes dry, brittle, and prone to breakage. Ignoring these issues could even lead to hair loss, which is why it's crucial to address them promptly.
Loreal Lustrous Hair Spa has been specifically formulated to remove all impurities from your scalp and hair, ensuring you no longer have to worry about the damaging effects of hard water. Our spa protocol is meticulously designed to provide your hair with the utmost care and rejuvenation:
Scalp Massage using Specialized Scalp Massage Oil (15 minutes): Indulge in a luxurious scalp massage that stimulates blood circulation and promotes relaxation, all while our sacred scalp massage oil nourishes your scalp.
Steam (5 minutes, only if no hair fall and dandruff problem): If your hair doesn't suffer from excessive hair fall or dandruff, enjoy a rejuvenating steam treatment that further enhances the effectiveness of the spa.
Hair Wash using Loreal Shampoo (2 times): Our exclusive Detox Shampoo thoroughly cleanses your hair, removing all traces of oil, dirt, and pollutants accumulated from hard water exposure.
Hair Mask Application: Experience the transformative power of our premium Loreal hair mask, specially formulated to replenish moisture, repair damage, and restore your hair's natural shine and vitality.
Pressure Point Massage (5 minutes): Unwind and let your worries melt away as our skilled professionals perform a soothing pressure point massage, relieving tension and promoting overall well-being.
Apply Conditioner and Hair Wash: We ensure your hair receives the ultimate care by applying a nourishing conditioner that enhances softness and manageability, followed by a final hair wash.
Towel Dry and Serum Application: Our experts gently towel dry your hair and apply a revitalising serum that seals in moisture, adds shine, and protects your hair from future damage.
Normal Drying: We let your hair air dry naturally, allowing the benefits of the spa treatment to fully penetrate and revive your locks.
Why Choose Loreal Lustrous Hair Spa?
Protection from Hard Water Damage: Our spa treatment is specifically designed to shield your hair from the detrimental effects of pollutants, ensuring long-lasting health and vitality.
Eliminates Impurities: Loreal Lustrous Hair Spa effectively clears away oil, dirt, and pollutants, leaving your scalp and hair refreshed and rejuvenated.
Dedicated Scalp Massage Oil: Experience the luxury of our specialised scalp massage oil, which not only nourishes your scalp but also enhances the overall spa experience.
Enhanced Comfort: We prioritise your comfort and well-being throughout the spa session, ensuring you feel relaxed, pampered, and revitalised.
Long-lasting Effects: Our spa treatment delivers durable results that endure through multiple washes, allowing you to enjoy the benefits for an extended period.
Heat-Activated System: The treatment utilises a heat-activated system to maximise the effectiveness of our products, ensuring optimal absorption and deep conditioning of your hair.
Choose Loreal Lustrous Hair Spa and bid farewell to the damaging effects of hard water. Restore your hair's natural beauty, strength, and resilience with our exclusive detox treatment. Book your session today and experience the transformative power of Loreal Lustrous Hair Spa. Your hair deserves the best!